OUR JOURNEY TOWARDS THE REOPENING OF OUR CHURCH IS OVER, PRAISE THE LORD!
IN-PERSON SERVICE returned to Ben Hill on Palm Sunday, April 10!
Service starts at 9:15am for in-person and virtual locations via the current platforms on Facebook Live and the church website.
REGISTRATION 
No registration required. The Sanctuary will be open for full seating capacity.
SAFETY REQUIREMENTS
To protect the multi-generational families within our village, all areas of the church are in compliance with CDC standards and protocols.
• Properly worn masks (covering your nose and mouth) must be worn at all times.
• Proof of full vaccination is required (booster recommended.) A PHYSICAL or DIGITAL card must be presented at the Check-in Desk.
• All children 5 years old and up must be vaccinated.
"We deeply regret that we are unable to accommodate all worshippers at this time. Although we realize some have chosen not to be vaccinated, for the health and safety of our congregation we must strictly adhere to these requirements."
GIVING
We encourage you to continue to give your Offering via text, on-line, the Ben Hill app, or mail-in. You may also place your Offering in the offering receptacles as you leave the sanctuary at the end of the Worship Service.
IN-PERSON CHURCH ACTIVITIES
For the interim, only in-person Worship and members only Funeral Services will be held at the Church. Sunday School, Bible Study, and Ministry & Administrative meetings will continue to meet virtually as we gradually move toward full reopening.
We are safe, we are ready, and to God be the Glory!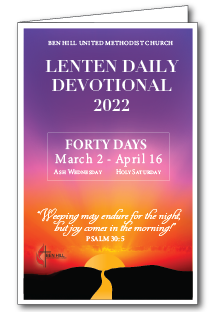 Click the image to view the Lenten Devotional.  Then, look for the "Download" option if you want the PDF version.